With Iti Sahai, International Product at Chegg
---
Below is a full transcript of this episode
Antoine Rey
Hi, I'm Antoine Rey. I will be your host today for this Global Ambitions episode. And my guest today is Iti Sahai who recently joined the Chegg product team to build an international platform. Today, our topic is going to be around enabling growth through localization. Welcome to the program.
Iti Sanai
Thank you for having me on.
Antoine Rey
Nice to have you indeed. So I'll go straight into it. You've been at a few companies working with different globalization teams and different layers of management, I presume, in a lot of the cases is trying in your role to establish a global mindset with your peers, with C level, in some cases with a lot of people there. But how do you go on about that to make sure that globalization and international is on their mind?
Iti Sanai
Well, that's a big question as to how do we establish an international practice and and ingrain it in everything that we do, which ties into the mindset. And it starts, in my opinion, not with big efforts that are high visibility or high reward, but they start with little initiatives which are almost like seeds that you plant across the organization, because international is a very horizontal function. And it's not an individual sport. It's a team sport. It's a very collaborative sport. So you plant those little seeds of the global outlook. And the global mindset should be the core and it is in fact the core of achieving the localization efficacy. So the little seeds you can plant is very tactically speaking in the different process workflows for different business units into how you can encourage them to think of international in the way their original workflows are built.
Instead of trying to completely break their process down and build something very glorious and international looking or international leaning, you plant a little seed and also build a lot of education around what localization is and how it is defined and fits in the context of your organization. Because even globalization, localization as a practice could mean different things for different companies. And last but not the least, the most important piece of this puzzle is collaboration. It is like this ingredient that makes a meal which is often very ignored and not highlighted as much, which is salt. And so it's a very simple thing, which is collaboration that really fuels and enables the international mindset and eventually the growth that comes with it.
Antoine Rey
And if we go practical into some of the things that you may have done or that you're doing now into establishing that global mindset, do you create like training sessions to explain what localization is? Do you create like a focus group, for instance, for localization or for international within the company? Do you invite a number of people to those so that you start to build visibility within the organization? What? All of the above?
Iti Sanai
All of the above. I mean, I have hosted lunch and learns of, in fact, one on a roadshow which has seemed to work the best, which is coming up with a very basic framework of localization and the framework of localization in your organization as just conversation starters. And you never want to approach a conversation from the point of, oh, this is what… especially to another team… oh, this is what you're doing wrong. In fact, you want to approach it from more of a place of empathy and kindness in terms of this is what I do. So let me show you what I do and how we can collaborate. And there is a potential for us to learn in this journey together. Right.

And that framework is what is really handy when you're starting to have just a very casual conversation with a colleague at an organization. Right. And that roadshow has helped me tremendously. And I would make jokes about it, that it's one of those, you know, a parade of localization that I'd throw in the organization. And everyone wants to rally around it. But essentially, it's just a conversation starter. It could be a 15, 20, 30-minute conversation with individual teams, individual product teams or customer success teams and smaller groups. Folks are more comfortable asking questions and even announcing that they are not familiar with something, be it leadership or be it an individual contributor, just about everybody right there is that sense of vulnerability that they're willing to showcase or willing to admit when it's a smaller group and you're approaching it with a mindset of educating them as opposed to telling them what they're not doing right.
Antoine Rey
OK, and when you say roadshow, I presume we're talking about in this case, probably pre covid times where you were able to travel to different offices physically?
Iti Sanai
Both. Yeah, in person is great. I've been able to be lucky enough to do that with my regional teams embedded in different regions across the world, which is fun. And, you know, you build that camaraderie with them, too, as you're doing a workshop and or a part of the roadshow, but virtually as well, it works out wonderfully.
Antoine Rey
OK, and what are you trying to teach them beyond that? We translate words. This is what we do. You know, do you go and explain to them how to internationalize code, how to build a feature for a specific country because it's different to the US market or cultural differences, things like that?
Iti Sanai
Yeah. So in different roles, I've owned different areas of the localization workflow. Essentially ops is what the operational side of localization is. What I would include in the presentation when informing the teams of this is how you request a project for localization and this is the workflow for it, and this is a turnaround time, et cetera. So that is separate. But a global mindset doesn't just come with translation. Translation alone cannot allow you to win a market.

There are several other considerations that go into making your product successful, which are product-market fit considerations, you know, making the usability, the feasibility, the regional pricing, the adaptability, and the configuration of your platform itself that need to be addressed. Which is why international, especially international product is so horizontal that I alone can't successfully fix all the challenges of the platform as a product where it stands. There are teams that own a certain area of the code and they own a certain product feature, and that's their domain knowledge. And I, as with my engineering team, wouldn't want to necessarily go into their code and start messing around with it because we don't own it. We don't have that expertise in it.
So with that said, the one eventual outcome I'm looking to achieve from the roadshow or from having a conversation with literally whoever is ready and willing to have a chat with me is understanding what their goals are when it comes to them. Identifying the strategy or the why for their product is what are your next steps and goals and what can you do in terms of making your product either more internationalized or localizable, to get that growth from your product. Because that is eventually a responsibility for everyone in the organization. Right. How are you contributing to revenue or growing the organization forward?
So leading with a service mindset is the key in this instance. It is how can I help you in terms of demystifying localization, making it more accessible and easy and simple, as opposed to this unknown that is cumbersome and scary. Which then broken down further, the conversation is more around understanding the business and the collective business problems we're looking to solve, along with customer problems. But the business goals really that we're looking to achieve, one, having a great understanding around that. And secondly, then again, leaning in with that service mindset towards potential collaborations that we could do.

There is tremendous opportunity and learning from another person in the organization who's definitely been there longer and has had a certain set of challenges as to identifying what their specific challenges were when it came to international and international growth and then coming up with a collaborative solution and eventually finding ways and means to build trust. Because when people tend to trust you, they are more willing to partner with you, especially for an effort such as international.
Antoine Rey
Yeah, I can see why you can establish that trust faster by not saying you're doing it wrong, but rather approaching it from the angle we're going to help you with your KPIs or your OKRs or achieving your goals one way or another. You touched up on something as well that you have in your function or in your role. You've built the enabling function for future growth, so you've built a platform to enable the service somehow. What I usually call the plumbing. Which is bringing you from a certain level of maturity to another in the localization maturity model. But it's really at an operational level. Can you talk about that a little bit and what you mean by your enabling that function?
Iti Sanai
Sure. So, I mean, enablement can be looked at from different angles. There could be just a localization enablement, which is purely an education piece of how you are disseminating that information within the organization and making localization more accessible to folks and not a blocker. Because that's the biggest challenge with anything pertaining to international growth, especially localization function, is that we should never come across as a blocker. And how can we make it simple and easy for everyone else in the organization? So that could be one piece altogether.
But the other is more from a technical perspective, more on the product side of things is building those platform capabilities, which is essentially going to have a touch point with every product team out there, every engineer out there. How can we inherently have international as our infrastructure so that folks are not having to rewrite code for specific, let's say, components that are often used across the platform, let's say date time, address fields, name fields. How can we make that internationalized inherently as part of a design system or a component library that can be repeatable and usable by all the other product teams that are out there. Without having it to be a process of constantly being in the state of reinventing the wheel, so to speak.
Antoine Rey
So that's at an early stage in the process, like almost of the design even phase?
Iti Sanai
Absolutely so. I mean, when at design phase, you can have that mindset approach, which, for the first thing that I shared, in terms of the planting those little seeds, that's exactly what you could do at the design phase where things are not yet built. So it's easy to mitigate any risk and any downstream challenges pertaining to the design, flexibility and the adaptability. Right. So at that phase, you can encourage your designers to use a plugin. I was able to crowdsource one and build a process, and that innovation allowed the designers to see their designs almost immediately in a collection of languages. And top languages that we used internally, but also any other languages. They want to see what it looks like. Right, and see what their design looks like. But all that does is it solves for the designer and at an early stage the product team to start thinking up international that oh, my design looks like this in a language that has a lot of text expansion, whereas this is what I need to do for a right to left language when I'm adapting my design. So it creates that mindset in the workflows, in the processes from very getgo.
And downstream, reducing those, retrofitting these bugs and solving these issues which saves time, saves money. Saves a lot of heartache on everyone that is involved in the process. So yeah, and that ties into the mindset for sure.
Antoine Rey
You've mentioned as well that this is a very horizontal approach, horizontal to the organization. So I guess like to influence and plant those seeds as you talked about, who do you need onboard? Like what level of the organization or what kind of people do you need on board? Are there a few types that you can highlight for our listeners?
Iti Sanai
So having said that, it's a very horizontal function, the more people know of you and the work you do, the easier or the better it's going to be overall for you to set yourself up for success. And the key to that, in my opinion, is branding your team, especially if you are a team of one. Be it an international product or localization operations, wherever you are starting out, brand your team. Set an intention for your team and visualize your origin story and define the problems you want to own. Because that will allow you to approach the conversation when you lead with a service mindset or you're looking to plant those seeds of a global outlook within different workflows. Having a mission and a vision for yourself and for your team that ties into the purpose of the organization or the North Star metric that you're looking to live up to or deliver to. That is critical. Creating champions just all across the team, all across the business units in different parts of the organization are going to be really helpful.
Antoine Rey
Listen, thanks again for being on the program. I'm sure we'll hear a lot more about you and Chegg very soon.
Iti Sanai
Thank you so much, Antoine. This has been an absolute pleasure.
---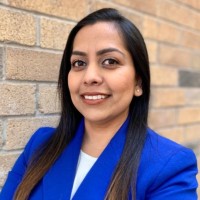 Iti Sahai
International Product at Chegg