With Debora Cohen, Head of Localization at AppsFlyer
---
Below is a full transcript of this episode.
Antoine Rey
Hi, I'm Antoine Ray and I will be your host today for this Global Ambitions podcast episode. And my guest today is Debora Cohen, head of localization at AppsFlyer. And today we will be talking about developing an in-house team at a startup, an in-house localization team that is, of course. Debora, welcome to the program.
Debora Cohen
Thank you so much, Antoine. It's my pleasure to be here today with you.
Antoine Rey
Can you maybe tell us a little bit about AppsFlyer? Because I'm not sure… I know it's a big startup at this stage. You've gone beyond the initial startup stage to what I would usually refer to as a started up or scaled-up at this stage. But maybe you can tell a little bit more about the company for people who might not know about it.
Debora Cohen
So AppsFlyer is a leading mobile marketing, analytics, and attribution platform. For those of you who are not familiar with this industry, basically, our platform provides all the necessary tools to better understand customers and drive successful marketing strategies. So, you know, with the help of our platform, it's possible to track and to measure users' journey and product experience. And I can say that our top priority, like one of our main goals within the organization, is to make sure we preserve our customer's privacy. Because, you know, nowadays, you know, you hear a lot of crazy stories. So we really want to make sure that our customers feel safe with us. And basically, we focus on that. We have many different products and features, but this is what we focus on.
Antoine Rey
Okay, great. And obviously, you're doing this in a number of languages. Oe wouldn't be here talking about this. Can you maybe tell us a little bit about your current setup and responsibility from a localization perspective?
Debora Cohen
I've been working in this company for four years and I'm running the localization department inside the marketing department in the company. Right now we support 11 languages. Mainly we work with a lot of regions. I would highlight, you know, CPAC, APAC, and LatAm impact mainly in what we do.
My job specifically, we basically translate and localize all the content, all the marketing material content that we have, including, you know, all the content from the website, blog post reports, guides, emails that we send out to our audience. We localize it into these 11 languages.
Antoine Rey
And so you mention marketing there, does that mean that the product localization is done separately within the team?
Debora Cohen
Correct. We do have another department within the organization that it's basically the knowledge base together with the product and this is actually led by another person. And yes, and what I do, what I'm mainly focused on, it's on marketing material.
Antoine Rey
Okay. And you guys have a connection between marketing and product to ensure that there is a certain level of consistency, I guess, as opposed to operating in silos, which I've seen in some companies.
Debora Cohen
100%. Of course, we need to have very close coordination and collaboration between both departments. We do want to make sure that we're using the same style and we use the same tone and we talk to, you know, the same way to our target audience, because even though it's different content, by the end of the day, you know, marketing content is always more fun. It's more creative. Knowledge base content is more technical. It's more about like, you know, articles, instructions of how to use our platform and our integrations and so on. So definitely it is run by different people and we have different team members, but we do have to make sure that we are fully synchronized.
Because by the end of the day when we launch a marketing campaign… and I'll give you an example, sometimes we send out an email and you know, the content of the email is usually very short, but you know, it has links that redirect to a, for example, a knowledge base article. So we need to make sure that when we are localizing this content from in the marketing department, I need to synchronize with the knowledge-base team and make sure that they also localized those articles into the languages that we sending these emails out to. Right. So, yes, it's essential to be synchronized.
Antoine Rey
Okay. Let's get to the heart of the subject as well here today. Four years ago when you started, it was most likely a very different organization. And now you have over a thousand employees and you've gone through a certain level of growth like usually in those organizations, which is usually a pretty fast pace there. I'd be interested to understand, in the last four years then, how did you have to adapt to that company growth and what did that mean for you and your team?
Debora Cohen
I like this question very much because I have seen the progress and I have seen such a big difference since I started in the company. So yes, when I joined the company four years ago, I think we were like 250 people, very small. So. They just started with the business. Obviously, the company was founded in 2002 and it was already established and so on when I joined. But you know, working in a company with so very few people is very different from what's going on today.
Nowadays, we're almost 100,500 people. And obviously, you know, even though we're still considered as a startup, it's kind of already behaving like a corporation. The company, you know, there's a lot of different protocols and different types of process, a lot of different workflows and many managers, a lot of people joined lately. So yeah, it's very, very different.
One of the things that I'm most proud about… what I did is that I basically built the localization team from scratch. We did support several languages, like six or seven languages when I joined the company, but we didn't have an in-house team, we didn't have a proper infrastructure, and we didn't have the right teams. So that was when I joined the company, I started to do a lot of research and I started to understand how things were working, what were the main pain points at the moment? I saw what was going on.
I came to the right managers and I explained to them the need to have the right teams to hire in-house localization specialists to change the way we were working, even the way we plan and we organized a project was completely different from the way we do it today. Because, as many of you know, localization is mainly about planning in advance. It is not just the translation part of it. It's I always say 20 or 30% of the overall work. So the planning, having kickoff meetings with the relevant stakeholders, then choosing the right teams also was one of the biggest challenges that I had when I joined. So I managed to switch to a different company as well.
The hiring process was a lot of fun for me. I'm a people person by the end of the day and I really enjoyed interviewing people. My team is spread all over the world. So, you know, I deal with many different people from different cultures. So a very fascinating journey. I have to say. It's been quite satisfying.
Antoine Rey
Thanks for that. Yeah. And I will encourage our listeners to contact you if you're open to that, because I can see a lot of similarities in their journey as well. And especially selecting a TMS at that stage is one of the challenges. And if you get that right, I think once you're in full production mode, that's quite important there. But to the heart of the subject. You decided to go for an internal team and I'm sure a lot of people that are listening today will either aspire to that or challenge that model, you know, and say, why didn't you outsource or what are the benefits of having an internal team? Can you maybe share with those some of those challenges that you see with that kind of set up and vice versa, some of the benefits that you received and why you went for that model?
Debora Cohen
Well, first of all, I want to clarify that most of the team members are our in-house localization specialists in the part of the company. But I do work with freelancers and I also work with translation agencies. So it's a combination because by the end of the day I have 11 languages, so not all of them work the same way. Okay. So I do have a combination of like the three of them. The reason why let's focus on the in-house is because that's what I guess you're interested to hear.
The reason why I thought it was essential to have in-house specialists, was because some of our biggest markets are APAC. Okay? And I'm talking about like GCR, China, Japan, and South Korea specifically. We have, you know, most of the revenues coming from the United States. And we really understood that number one, people don't speak English in those regions. We did have before I joined the company, we had this experience of like sending our content to external translation agencies and it didn't matter how much we explained to them, you know, the terminology and who our target audiences are and what our product is about. They didn't really understand the concept and they were never doing the right translation for it or the right localization for it. Okay.
Then on top of that, one of the main difficulties that I encountered is the fact that we use many different tools. We use WordPress and we use Marketo and we have Instagram and we have lots of different platforms and even if we outsource the translations, then there is this element of implementing things manually. Because back then when I joined the company, we didn't have the right tools that actually automate that, you know, the translation process. So even if I was outsourcing the content, and the translation was accurate. I still had to have someone in-house who could do the implementation itself, and copy-paste it.
So, by having this in-house team, I already, first of all, I improved the quality of the translation. Then they understand the product really, really well. They know who our target audiences are. They work very, very closely with regional marketing managers and they know what our KPIs are in the region therefore they know what type of content they have to localize. As you can see, these localization specialists are not just translating content, they also understand what's good for the region. They also do a lot of implementation themselves. They take a lot of initiative, basically, and this is something that it's not possible to have when you outsource content to an external translation agency.
Now, I'm telling you these, and this is the model that works for us, but that doesn't necessarily mean this is good for other companies. And that's why I don't like giving advice to other people and telling them, listen, guys, you have to hire in-house people because it's not for everyone. It's just I realized that with my company specifically it was needed to make these successful.
Antoine Rey
I presume you had to spend a lot of time training those people with the product and making sure that they had a lot of references and knowledge around the product and your tone of voice, your terminology to get to that point?
Debora Cohen
Yes, that's correct. But at the same time, again, I'm really proud of the company that I work for. One of the things that they're great at is the onboarding process. Not just for, you know, the translators and my team in general, every single person who starts work in AppsFlyer, they have this amazing journey of like it's two weeks of very intense onboarding with all sorts of sessions and training sessions and it's unbelievable the work they do. So my team, obviously, they also have the same training and then on top of that, they have the extra localization training that was needed. And by the end of the day, it's a learning curve, you know, that every single employee that starts in the new company. Of course it takes time to get used to it, but we see the value long term. It's really worth it. It's good to invest this time.
Antoine Rey
Yeah, we're seeing quite a bit of this as an LSP. or as freelancers, where more and more, especially for marketing content, there's a requirement to have that direct line of sight to your internal stakeholders, in your case, marketing managers or directors that are directly located in the country. It seems that fosters a sense of responsibility and ownership with the translators. That does end up in producing better quality, I guess. Is that what you've experienced as well in this case?
Debora Cohen
Exactly, it's a joint effort between… they work very closely the marketing managers, the regional marketing manager, who works really, really closely with the localization specialist or the freelancer actually appointed to any job. And we can see the benefits. It's been an amazing journey so far and things are working really well and we couldn't be happier with the results that we get.
Antoine Rey
And how do you decide to outsource then? Is that like based on tier two languages or new languages, new volumes?
Debora Cohen
So it's many different factors, but it's basically what you just mentioned and it's like, well, we consider like tier two languages or like, you know, sometimes the volume. Sometimes we don't need it. Again for Chinese, Japanese, and Korean, we localize absolutely everything. For other languages like French or German, we don't localize because the need is not there. We don't need it. Or maybe the marketing manager is not actually working on that type of activity, and maybe they focus more on webinars or they focus more on like, you know, different types of activities basically that do not require localization work behind it. So that's mainly how we know, you know, how much time and effort we need to spend on each language.
Antoine Rey
Well, Debora, thanks very much. I think this is a very interesting journey that our listeners will be glad to hear and take some ideas and compare them to what they've been doing themselves and share that with the rest of the industry. Certainly appreciate your time on this and your insights from an AppsFlyer point of view. So thanks so much for coming on the program today.
Debora Cohen
Thank you so much. It was a pleasure talking to you today. 
---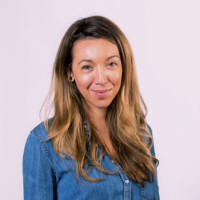 Debora Cohen
Head of Localization at AppsFlyer