With David Edwards, Localization Lead at Pipedrive
---
Below is a full transcript of this episode
Kim Shouler
Hi, everyone. Welcome to the latest episode of Global Ambitions. I'm Kim Shouler and I'm delighted to be joined by David Edwards, who is the localization lead of Pipedrive. Hi, David.
David Edwards
Hello, How are you?
Kim Shouler
Good. Thank you. Thank you for joining us.
David Edwards
It's a pleasure to be here.
Kim Shouler
Great. So before we delve into today's topic, which is a really interesting one, David, I'd just like to ask you to introduce yourself, a little bit about Pipedrive, and your role there would be great.
David Edwards
Yeah, my name's David. I'm the Localization Lead at Pipedrive. So we have a team of seven who are working on localizing Pipedrive into 21 different languages. And we operate… we have customers all around the world. Pipedrive is an activity-based sales CRM software, and it's an online service platform that people can use to manage their workflow and sales processes. So we're used by companies literally all over the world. And we offer the product in, like I said, in 21 different languages.
Kim Shouler
And how long have you been in the role?
David Edwards
I've been at Pipedrive for three and a half years. Pipedrive is a very new culture, so a rapidly growing company. So three and a half years, we always like to say, is about three decades in another company. Pipedrive itself is only about 11 years old, but it's growing very, very rapidly.
Kim Shouler
OK. Yeah. Thank you. So what we are going to talk about today is something that's really a big question, I think, for a lot of software companies in particular, but, you know, other companies as well. And that's deciding which languages to add and when to add them. So, David, you and pipe drive, you came up with, I believe, what you call a language expansion framework.
David Edwards
Right.
Kim Shouler
To help you to decide exactly what to add, when to add it, just to look at the picture as a whole. So it'd be really, really great if you can just tell us a bit about that.
David Edwards
Yeah, absolutely. It was a bit of a riddle or a question that we needed to solve. We have quite a flexible localization process and system in the background. So it's quite easy for us to add new languages. But obviously, we need to balance that with the return on investment and the time and cost involved in localizing.
So in December 2019, we decided to build a model to kind of really inform our decision with data, adding to the model as many relevant metrics or indicators that we could find. And in so doing, refine our localization process and our offering so that we're really optimizing our investment in different markets, in different languages.
So, yeah, on the one hand, it was very, very convenient for us to have this kind of flexible model. But we still needed to make the decisions in an informed way with data behind it so that we could show the workings behind our logic, so to speak.
Kim Shouler
That's really interesting. So can you go into a bit more detail about sort of what data, what factors you looked at, and what you included in the model?
David Edwards
Absolutely. So we wanted to compare two different types of data. On the one hand, we wanted to look at or build a profile of a market. So we looked at individual countries, not just at the number of speakers or number of people in the country, but also the kind of more drilled down metrics such as Wi-Fi connectivity, English language proficiency, and things like this. So really to build a market profile. And we wanted to compare that against that country's performance and business performance, that pipe drive we're achieving there. And by comparing the two, we wanted to identify markets where localization could help or provide a really important role in= growing our business in that market.
So not just picking the countries with the most number of speakers or, you know, the richest countries, but actually, and I think this is quite an important thing to do, is targeting those markets in countries where localization can play a really key role in driving business growth in that country.
Kim Shouler
And, you know, it sounds like you really did look at things that were not immediately obvious. Like you say, a good number of speakers would be one of the ones you maybe would go to first. Right? So how did you find or how did you think of which metrics to use?
David Edwards
Yeah, we sat down and asked ourselves and we wanted to really figure out and take the time to figure out what data would help us make a meaningful decision. So it wasn't just to, you know, look at the obvious ones, your population size or growth in the economy, but things like registration of new businesses because Pipedrive is aimed at smaller and medium-sized businesses. So we wanted to look at the start-up sector in a country. So we would kind of drill down into those kinds of publicly available economic indicators of small and medium-sized businesses, new business registrations, things like this.
Obviously, also, Pipedrive is an online tool. So Internet connectivity was very, very, very important for us when we were considering how usable Pipedrive would be in that market. Obviously, it's not a deal-breaker if the country is still developing. But those are the kind of things that we were interested in asking ourselves to figure out. OK, would Pipedrive be attractive to customers in that market if we were localized in it?
And then the other thing we wanted to ask ourselves as well was English language proficiency. There are some markets that are very big and very attractive, but where the English language proficiency is such that users could use it in English when compared to another market that maybe was less proficient in the English language. Or maybe that market spoke a language that we already offered.
So, for example, one market that showed up quite proficient in our model was Ukraine. And Ukraine is a very interesting market. But we noticed that we were overperforming or performing better than we'd expected in Ukraine because we already offer the Russian language. Obviously, there is a proportion of the population that can't use the Russian language, but it kind of weighed into our decision about whether or not to follow localization in that language.
Kim Shouler
So it's an interesting combination, really, of looking at all these metrics that you determine, but also comparing that with how Pipedrive is currently doing in those markets. Right?
David Edwards
Exactly. So we compared those kinds of market profiles with the current performance of the company. And then we were able to kind of standardize the two scores into a coefficient, subtract one from the other. And it gave us something which we called an underperformance index. So we were then able to spot which markets were performing worse than expected, which markets are performing better than expected.
And then also by combining that with some of those market profile indicators to figure out would localization help us to perform better. Not just adding a language, but expanding our offering in that language. Because we don't just have a blanket policy of localizing everything into every single language. It's like we can build it like Lego blocks and we can add different bits of content in different languages.
So, for example, in a market that we were already localizing into, we identified that we were performing not quite as well as we'd expected. And that kind of informed us to add that language as a candidate, to expand our localized offerings for that market and in that language.
So it wasn't just about, yeah, adding new languages, but also adding content in languages that we already offer. And in the end, it was a very, very useful exercise for us to go down. And I really strongly recommend localization departments or internationalization departments to consider doing this kind of exercise, because it's very, very worthwhile in terms of informing your strategy going forward.
Kim Shouler
And do you think it's helped increase the image of localization, if you like, within Pipedrive? You know, you've got all this data backing up what you're doing. Do you think that really helps you sell yourselves as a department?
David Edwards
I hope so. I do hope so. I think a lot of localization departments have this kind of visibility problem because, you know, you don't fit squarely into one box. Are you product? Are you marketing? You know, where do you fit?
And also, you know, our localization process runs in the background. It's a very light touch system for our team, which means that developers and engineers can work quite autonomously. They don't need to consider localization as a kind of discrete step in their process. And that meant that, you know, when we were doing our work well, we were invisible.
And certainly doing this market expansion framework was a very good way of raising our visibility within the company and encouraging project managers, marketing managers, even executive-level managers to start thinking about internationalization more and how to use localization as a resource to drive that internationalization. So that was also good for internal visibility as well, I would say.
Kim Shouler
So, I mean, it sounds like, you've done all this work and it's been going great. And I think it's really good advice that you're giving out. Is there anything on the flip side where you'd say, you know, well, this was a surprise or this didn't work so well? Something that you could pass on to the listeners to watch out for the same thing?
David Edwards
Yeah, I think there were a couple of things that we… It was the first time that we ran this kind of exercise. So it was kind of a learning experience for us in the team as well. And there were a couple of things that we understood how we could improve next time.
One of those things was actually related to the internal visibility question, which is, engaging internal stakeholders. We understood once we kind of published the outcome that there were a lot more people within the company who had an interest or some really interesting ideas that they wanted to contribute. And yeah, I think one of the things that we would do better next time is make more of an open call before, during, and after the research to try and engage other internal stakeholders and see what ideas they can contribute.
Because we had a lot of really, really interesting thoughts coming from different places. Oh, did you consider adding this? Or maybe this is an interesting metric. And we were like, OK, yeah, that's really, really great. Things like smartphone ownership, because Pipedrive has a mobile app. We didn't really consider that. But actually, that was a very, very interesting thing to add into the model. So next time around, I think we will kind of engage with internal stakeholders a bit better.
And then also, I think the scope of the research is maybe something that we didn't quite understand how long term or medium term the results were going to be. Initially, our idea was that we were going to run this thing every six months. Well, every quarter, actually. And then, you know, it took a good couple of weeks to publish. So then we scaled it back to once every half. But actually, the findings of the research took, you know, 18 months even to contribute.
So we are now in the process of doing that research again. But that was a good year and a half before we got to the point where we'd come up with our outcomes and then were able to implement all of those outcomes and get into a position where we can run the research and consider again what kind of gaps there are in our localized offering in terms of the global market, and then also in terms of our internal languages that we offer and content.
Kim Shouler
Yeah. So it's a much longer-term strategy than you had in mind.
David Edwards
Definitely.
Kim Shouler
Fantastic. So last thing I wanted to ask you really was just what you would love to see added to the Global Ambition series. Is there a particular topic or, you know, some a company or a type of company that you'd love to hear more from?
David Edwards
Yeah, we're at the minute in our team very interested in crowdsourced localization of processes. We use a translator and editor team for all of our languages, but I think as a more flexible way of tailoring your content, crowdsourcing is very, very interesting for us. And there is a company here based in Estonia called Boltz that has a kind of ride-hailing food delivery and scooter rental app. And they, I think, have a very, very effective crowdsourced localization process. So that's definitely something that I'd like to hear more about is crowdsource localization.
Kim Shouler
Thank you very much, David. It's been really interesting and thank you for coming on. I'm sure that if people have more questions about what you guys did at Pipedrive, they can maybe reach out to you on LinkedIn if anyone wants some advice?
David Edwards
Absolutely. I love, absolutely love talking to people on LinkedIn and giving advice. And hopefully, it was helpful. But, you know, I just always kind of encourage people to go and try things out, think about these projects on their own and see where it goes and, you know, tailor it, improve the process and try again later.
Kim Shouler
That's fantastic. Thank you very much for your time.
David Edwards
Thank you.
---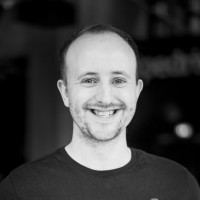 David Edwards
Localization Lead at Pipedrive