With Alice Desmoulins, Localization Manager at Alteryx
---
Below is a full transcript of this episode.
Antoine Rey
Hi. My name is Antoine Rey, and I'll be your host today for this Global Ambition podcast episode. And my guest today is Alice Desmoulins, localization manager at Alteryx. Alice, welcome to the program.
Alice Desmoulins
Thank you so much, Antoine. I'm happy to be here.
Antoine Rey
Great. And today we're going to be talking about newbies to localization. What do you need really? And so can you tell us a little bit… because you were a new person to localization when you arrived at Alteryx and I'd love to hear a little bit maybe of your background. You know and how do you get like mentorship? What did you do at Alteryx to learn the ropes of localization?
Alice Desmoulins
So a bit about my background. I'm French-American, and I moved to the States when I was six, but I always had a longing to try to reconnect with my roots and go back to France. And so that's what I did at university. And I joined a French global medical provider company in their international marketing team. Quickly after that, I decided I want to stay and get my master's in international business management. And at that time I was also working for the same company in a different role as a sales agent selling an analytics solution and actually a software and hardware solution to podiatrists, foot doctors in France.
And so it was kind of a mix of understanding that I had a passion for analytics, I had a passion for software, I had a passion for international growth, international language. I would say that kind of prompted me to the role that I landed in when I arrived at Alteryx. So I had all of this as background information and I really just needed to find my first break, my first opportunity to get my foot into the door.
And so when I arrived at Alteryx, I kind of used my French linguistic capabilities to my benefit and to my advantage. And I started Alteryx as the French linguistic QA. So I was in that role when I first arrived at Alteryx, and I didn't know that I was joining the localization team at the time. But I learned very quickly that I was on the localization team and I learned what that was and what that entailed, and it really prompted me to want to learn more and to understand how I could take on different roles within the industry and within the company that I'm at.
Antoine Rey
Like all of us, like many people that are listening to us, you fell into it because you put your hand up and said, I speak another language.
Alice Desmoulins
Yeah. Exactly.
Antoine Rey
And so what do you do when you arrive at a company like this? And you don't have that much localization background, but somehow an international background, and you're hired to do some work in the localization team, what do you do to educate yourself into the localization world or to find some help to learn the ropes?
Alice Desmoulins
So it's a great question and I've done this, I think I've done this in various ways. But, you know, I think it's really important to build your network. I didn't have a network of localization when I arrived at Alteryx. You know, I had to build my network with intention and I had to be adamant about doing so. So, you know, for me, this really meant listening to podcasts. This meant attending training, reaching out to people on LinkedIn, and finding people that I admired within the industry, and finding people that I aspired to be. Right? So whether that be through their leadership skills or the, you know, the work experience that they've had that's built them up to be where they are today. Whether that's, you know, in their role or title that I may aspire to be. And just finding those people within your network or people that are outside of your network and connecting with them. Right, and then shooting them a message. And all of a sudden you're connected with a rich base of people.
Antoine Rey
Yeah. And do you push it? Like do you actually get on some calls with those people to kind of get information in your network there to get people that are peers in the industry that might be sharing information? So do you end up talking to those people?
Alice Desmoulins
Yes, some people, yes. And that's, you know, that's where I have had some of the most success. What's really cool about the localization industry is that people are very friendly. They tend to be very friendly if you're not a direct competitor. In my experience, everyone is very open to meeting and I think we all have this want to try to understand how localization programs are being run at other companies. And I had some great success meeting with other, you know, localization managers, other companies to try and learn from each other's experiences. That's been very successful.
You know, also at the beginning of the pandemic, I knew that I needed to continue to try to expand my network. And I was like, oh, boy, everything's shutting down. How am I going to do this? Everything's going virtual. But there was a pretty great opportunity that kind of landed into my hands, which was to start the Colorado chapter of the LocLunch. I don't know if you've heard of it, but.
Antoine Rey
Oh yeah.
Alice Desmoulins
And Jan Hinrichs is the founder and I actually heard him on a podcast and I was like, Oh my gosh, that's such a cool initiative. What a great message. And reached out to him on LinkedIn and he told me, Hey, we need a Colorado chapter. Would you be interested in starting it up? And so I did that at the beginning of the pandemic with a colleague and friend of mine, Joseph Holtman, and we reached out. What was cool at the time is because it's virtual, it didn't have to just be Colorado-centric. It could be, you know, anyone who would want to join, who has an interest in localization, you know, let's meet up once a month for an hour and share our experiences. And I'd say, you know, that was a huge contributing factor to kind of multiplying my network of folks that are in the industry and have similar passions to mine.
Antoine Rey
Right.
Alice Desmoulins
And it's learning the ropes of the industry using free resources in your network. So the basic advice here for everyone who's listening is to push the doors. Don't be afraid. A lot of people are very nice and therefore more willing to talk than you think, you know.
Antoine Rey
Yeah. Well, then, so you're in the company there and you working with a team and you're now the localization manager. So for, everyone listening, see, you can be a newbie and become the owner of the localization process at an organization, like Alice here. And so you've built the basic infrastructure and knowledge in your organization, and then you guys decide to go global to expand into different markets and you've built the support for it. But what else did you guys do to support that global expansion and your team?
Alice Desmoulins
The plumbing was kind of in-progress right when I arrived and we really needed some solidification of several processes, especially within product development, right? Our international strategy, internationalization program was still very immature. And so that, you know, that was one of my main focuses as I joined as a program manager was to really ensure that the products that we were building were going to function and be successfully launched in the markets where we're present. So there was a big focus on internationalization because this has a great impact on our ability to provide a nice and beautiful user experience to our customers.
And of course, you know, once you have an infrastructure and internationalization principles, standards that are in place, then you can build upon them and they can also be leveraged outside of just product development, right? You can kind of harness some in for infrastructure and have it apply to other places within the business.
But I think first we had to really build a solid baseline of internationalization in order for us to even start to think about how we could start helping other places within the organization with their localization needs and requirements. And that took some time.
You know, I remember I took a certification from the Localization Institute and I was inspired by I believe his name is Gary Lefman, I think he works at Cisco, he works with internationalization, and he built up the program there. When I remember listening to this and be like, Oh my God, we need to do this at Alteryx. This is exactly what we need. We need to define our internationalization standards. What those actually are at Alteryx, we need to provide more robust documentation and resources. We really need to enable every single engineer to understand what their responsibility is to build globally compatible products.
And it also prompted me to think about building courses and modules so that as we onboard new people, they have all the information that they need and they can feel empowered from the very beginning. So it's not taboo. It's not a question mark as to, okay, what do I have to do when localization, internationalization gets thrown around? I know exactly what my responsibility is and I know who to tap, shoulders, to tap and how to get resourced.
Antoine Rey
So you created those resources inside Alteryx, whether that's for new people in your team or for other people, as well as educational tool for the rest of the organization.
Alice Desmoulins
Yeah. So our engineers, so that was a big initiative that we had with our engineering team.
Antoine Rey
Mm hmm. Fabulous. So usually what I see in conversations and experience in the industry, once you've built up plumbing, once you evangelize, centralize, standardize a lot of the work that goes into your localization foundation we call it. This is when, usually, those teams are ready to switch gears and expand to other content types, maybe really kind of develop that global mindset within the rest of the organization and switch your operation into an internal business that contributes to revenue. Can you talk to us about that journey then after building the foundation?
Alice Desmoulins
Yeah, it's a really good point because, you know, now that you can feel confident that you have a solid basic infrastructure in place, you can then start to think about how to build on top of it and what other use cases in other parts of the organization that could benefit from these processes.
And so that's kind of what we're getting into now is I have a team of localization specialists and one of their main roles, I mean, they have several responsibilities, but one of their big responsibilities that I encourage them to hold within their roles is to build regional relationships with our regional stakeholders. Right? So that's whoever is committed to a certain market success. Those are people that you should be in contact with and create relationships with.
You know, we need to have an understanding as the localization team, as to what our regions are really requiring or requesting in order for them to be successful in their sales objectives. And so by having these conversations, by having the localization specialist really trying to lean in. And not necessarily saying, you know, only tell me what pertains to product localization, but what is it if we're looking from a high level? Because sales, they can't make the differentiation of okay, this is a localization request. They're just like, I need this to help me. You know, I need this to help me in my sales objectives. And so our role has been to help advocate for that, right?
Because and I think that gets into kind of like the evolution of where I'd like to see the program move is more of a global advocate. A global program, a globalization program that understands the needs and requirements of specific markets to be successful in that market. And so because we've been having these conversations right now, it's not just a matter of we need the product to be localized, but hey, we need this training content. You know, our partners need this training content to be successful in reselling Alteryx. We need this documentation. We need this enablement. So and that's where we're starting to lean in a little bit more, is advocating for that and then trying to start conversations with some of those content owners to see if this is a place where we could start supporting them.
Antoine Rey
And I think that's brilliant because this is where you kind of elevate the function of localization to that revenue contributor, you know, with all your stakeholders, but also you're contributing to the success of the customer experience in the market. So that's a fantastic approach and an exciting journey ahead. So going from really the newbie like coming into an organization, taking the lead of the localization management, and then getting to that evangelization function with the revenue contribution, that's a fantastic journey. I'm sure it will be great to hear for all the other listeners out there that are going exactly through the same challenges and the same kind of journey in different stages.
So we're coming to the end of this podcast. So thanks very much, Alice, for your contribution. I'm sure we'll get to meet in person hopefully soon in the next LocWorld or LocLunch potentially. That would be fantastic to be able to travel again and see people in person and meet those people for the last two years that we've only spoken with on Zoom or other digital platforms now. So thanks very much, Alice, and we'll talk to you very soon.
Alice Desmoulins
Thank you, Antoine.
---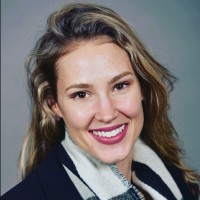 Alice Desmoulins
Localization Manager at Alteryx