With Jeff Beatty, Senior Head of Localization at Mozilla
---
Below is a full transcript of this episode.
00:00:18.400
Antoine Rey
Hi, everyone. My name is Antoine Rey and I will be your host today for this Global Ambitions podcast episode. And today, my guest is Jeff Beatty, who is the senior head of localization at Mozilla. Our topic today is global accessibility. Jeff, welcome to the program.
00:00:33.767
Jeff Beatty
Thank you for having me.
00:00:36.767
Antoine Rey
So do you want to maybe tell us a little bit about you and your role at Mozilla?
00:00:40.133
Jeff Beatty
Yeah, so I'm responsible for the localization program at Mozilla. That localization program and team consists of an engineering effort and a program management effort. And we localize into a lot of different languages. We've been able to scale up localization to about two hundred and twelve languages, and that's largely thanks to the time and effort of a very large global volunteer community.
00:01:05.567
Antoine Rey
I don't think I've ever come across anyone that tells me I localizing to 212 languages in my career so far. I've seen eighty-three. Now that's a new record. So that leads to my first question. I guess that part of the answer is in what you just said there, but what is Mozilla doing towards global accessibility and why?
00:01:28.100
Jeff Beatty
So global accessibility is part of our mission. If you look at the Mozilla manifesto, you see that global accessibility is represented in a handful of the different elements of the manifesto. We talk about it, the Internet being a global public resource. We talk about it, how it needs to be accessible to all peoples, regardless of ability and regardless of language. And so the localization program really has that mission focus in mind. And as we localize content or create new products, we do so under and at the open-source methodology and make our products open to anybody in the world to come and adapt and make them their own to suit their own particular needs. And that's especially true with localization. We've provided an environment and a platform for volunteers to come and make Firefox available in their language to people that also speak their language.
00:02:24.900
Antoine Rey
And so, like I was going to say as well, how is the team supporting this? Mainly through this platform then?
00:02:30.567
Jeff Beatty
Yes, we've developed an in-house translation management system called Pontoon. We felt the need to create something on our own because there weren't very many elegant, community-driven solutions on the market. There were some on the market, but not all of them gave us the degree of control to be able to define our own metrics, to track what was important to us, and to structure our communities in a particular way like we could with creating our own teams. So we have done that and we have centralized localization from the community all through pontoon.
00:03:04.333
Antoine Rey
And so what kind of challenges? I guess I can imagine some of them there. Are you facing in those markets, like the main markets, I presume, are easy enough, but when it gets to more remote places, I presume there are a number of challenges there to find resources even.
00:03:22.633
Jeff Beatty
You know, it's really interesting that you would assume that for the languages that are typically covered by a lot of different companies, that we wouldn't have any sourcing issues. But in fact, it's the languages that are most common that we have some of the biggest challenges around sourcing. It's not that we don't have a lot of people coming to participate, it's that they treat it more as a crowdsourcing project rather than a long-term community project. So we have a lot of people for German or for Spanish or French that will come and make a couple of contributions and then we'll never see them again. And that leaves the more long-time core members of the community wondering, what do I do with these translations that have come up randomly? And I don't know who these individuals are who would attribute them back to.
But it's languages like Welsh, for instance, that we actually have very stalwart contributors to, or Guaraní, where we have people that are very dedicated to language advocacy and they have been able to keep pace with our product development cycles to be able to produce products at 100 percent localized status for their languages.
So we have different problems. We have the one problem with these other languages where the volume of individuals coming to contribute and that are trained and skilled enough to make contributions successfully pool is fairly limited for those. But then we have an abundance of people coming to make contributions to these others. But they're not doing it in a way that is conducive to success for us.
00:04:56.333
Antoine Rey
And so how do you remedy that? How do you address some of those challenges?
00:05:00.267
Jeff Beatty
And I, you know, I think that we're in a constant state of trying to. To address some of those challenges, it's really a multifaceted problem. We historically have organized our communities into governance structures that empower veteran members of the community to function as mentors to newcomers. But we have begun to realize over the last year or so that, in fact, that creates an unnecessarily large burden on these veteran community members who have come to Mozilla in order to contribute translation's, not to mentor new newcomers to the projects in the right way to make a translation contribution. So we're going to we're kind of in a stage right now where we're brainstorming to try to figure out how to how to solve that particular problem and ensure that newcomers can quickly acquire the necessary skills to make good contributions without creating a significant bottleneck and obstacle for the more veteran members of the community.
00:06:02.400
Antoine Rey
Yeah, that reminds me of a book by Dan Pink. That says this is what motivates people usually and gives me a purpose and I'll find the resources in that case. It seems that you guys are really, let's say, not in the community when there is a real and honorable purpose like what you guys are doing at Mozilla, it's easier to find the resources and the dedicated resources all the time.
00:06:26.100
Jeff Beatty
Right. And when surveyed, our community has consistently responded. The majority of our community has consistently responded that social welfare and social good or activism is one of the core reasons why they've come to Mozilla to contribute. So we definitely purpose-driven projects bring people and we've been able to see that.
00:06:45.133
Antoine Rey
And so as opposed to a lot of people that we get on the show or that we meet through our careers in localization, you have, like your organization, give you a mandate to go after as many languages as possible, whereas most localization managers and directors are going to find themselves in a position to go and try to justify a budget justified to go after certain languages. You have the opposite problem, right?
00:07:13.333
Jeff Beatty
Actually, we have both problems, but for different groups, different types of content, for product user interfaces, the mandate is certainly coverage. Get as wide of coverage as you possibly can. So we've had to develop systems that can scale and allow people to come in and request to participate in particular projects and then create an onboarding plan for them that creates as little technical barriers to entry or as few technical barriers to entry as possible for us to be able to ship a product in that in that language. On the other side, though, marketing content always has a specific target and more stringent requirements often than what a product user interface might have. And so we do find ourselves at times having to facilitate those requests to target specific markets and do so in the most cost-effective manner possible. So it's a different challenge on both sides.
00:08:16.333
Antoine Rey
Definitely different. Yeah, and the cost implications are very different in this case because most of the people. But you guys are working with the volunteers or…
00:08:24.567
Jeff Beatty
Yeah, for our products, the cost implications are very different. It's really more about employee resources to maintain and continue to develop out the Pontoon platform, as well as program management resources to facilitate community participation and mobilize the community when there's a major product release coming up, or maybe a new product that we want to capture as much attention as possible from the community.
00:08:47.433
Antoine Rey
So you mentioned the UI and the product. There are all the components that you localize that work outside of that model.
00:08:53.733
Jeff Beatty
Yes. So we have marketing content that's lifecycle marketing content, as well as product marketing content that gets put into app stores. For instance, we also have our Mozilla dog website. We have legal documentation that we are translating in product and notifications are in-app messaging. We've done user research surveys. We've done even transcription and subtitling.
00:09:19.533
Antoine Rey
Yeah. And that follows more of a traditional localization model in that case.
00:09:24.200
Jeff Beatty
Yes. By and large, we follow more of a traditional model for those.
00:09:28.300
Antoine Rey
And you don't use you still use pontoon that that's a different platform.
00:09:32.500
Jeff Beatty
No, we try to keep those pipelines entirely distinct from one another. The community ecosystem can be very delicate. And so introducing paid work with volunteer work can actually overturn the apple cart. And so to avoid that risk, we've come up with separate automated pipelines and separate platforms for both types of workflows.
00:09:55.267
Antoine Rey
And on the volunteer side then like the whole drive behind the 212 languages so far, because I'm sure you guys are planning probably more languages every year. Why is Mozilla what's the drive behind Mozilla for doing this?
00:10:08.300
Jeff Beatty
It's that that drive to make the web accessible, really, it's that drive to provide a space for people to come in and make the web what they need it to be. I have always kind of related the browser back to a public transportation system or a bus system. The browser is so critical to getting to wherever you need to be on the Internet to either go to school or go to work or visit friends online or to run your business similar to transportation systems. And if your bus system, your transportation system does not have information about stops or about locations or about fees or anything like that in the necessary language, then it's going to be very difficult for an individual to be able to get from point A to point B or wherever else they need to go. And a lot of the people that come to us understand that concept and see browsers as critical pieces of software to enable them to have productive digital lives. So a lot of them come to us because they see the utility. They see the urgency to have this software available in their language in order to help other people to be productive online.
00:11:20.667
Antoine Rey
And you feel that's what's driving the people that you get as volunteers to come and help. What what does it give them?
00:11:28.767
Jeff Beatty
That is the feedback that we get. We periodically will run surveys to try to understand the motivations behind their contributions. And we found actually that motivations can vary on a region by region basis. There's a certain value that one region places on certification, for instance, that just is not similar to another part of the world. But the one common element that we've seen is that everyone believes in the mission and wants to see the mission succeed. So they come to make their contribution toward its success. And it's not really generating purpose in this case.
00:12:03.467
Antoine Rey
And do you guys offer us some sort of any kind of recognition for the volunteer, the participants, if they want to promote the work that they've done with you?
00:12:12.267
Jeff Beatty
For instance, we do utilize leaderboards within pontoon. The leadership and governance structure is also a method of recognition, because the higher your role, I guess, or the more involved your role is within the community, the more trust you're given. We also in the past have organized onsite multi-region localization workshops or we've invited corps and active contributors and paid for their flights, their hotel, and everything to come for a weekend and join us to learn more about how they can localize more efficiently and how they can work together more efficiently as well. And that's functioned as a good piece of recognition. We also have gear. You know, we're a tech company and tech companies love gear. So we have localization-specific gear even where the Firefox logo is made up of Unicode replacement characters. And so we have distributed gear like T-shirts and things like that with that logo.
00:13:12.400
Antoine Rey
And that seems to motivate people.
00:13:14.733
Jeff Beatty
Yeah, that's part of the recognition that is appreciated, I'm sure.
00:13:18.533
Antoine Rey
Well, listen, we've come to the end of our podcast. Thanks very much for this insightful and interesting, very different topic and sharing how it works within Mozilla. I'm sure our listeners would be delighted to hear about that. So thanks for coming on the show.
00:13:33.100
Jeff Beatty
Absolutely. Thanks for having me.
---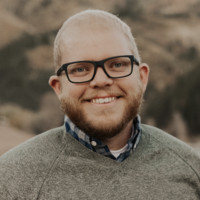 Jeff Beatty
Senior Head of Localization at Mozilla